As part of the basic human needs of the new reality, internet connection is still a challenge in various regions of Brazil and the world. Therefore, in addition to strategic partnerships that serve this market, we also have our own solution, created and developed by Elsys: AMPLIMAX!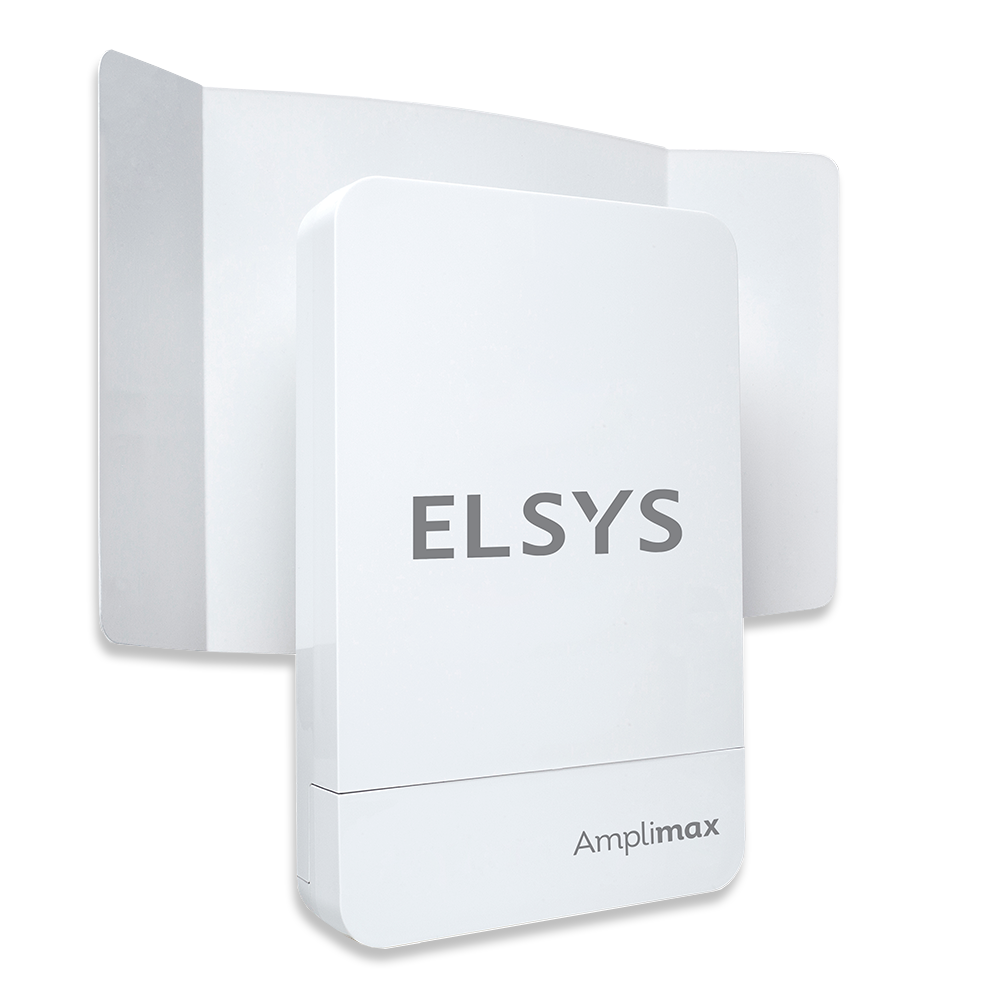 Successful in Brazil and more than 10 countries around the world, Amplimax is a long-range solution for areas without internet and telephony signal, which captures signal from towers from miles away and enables people to connect wherever they are: in the mountains, on the farm, on the road, on the island, in the office (such as internet nobreak) and in many other situations.
SUPPLY VOLTAGE: 12 to 24VDC
FREQUENCY BANDS: 4G: 600*(B71), 700 (B12, B13, B14), 850(B5), 1700 (B4, B66), 1900 (B2) MHz. 3G: 850 (B5), 1700 (B4) and 1900 (B2) MHz
RATE OF DATA TRANSMISSION: LTE R9: (DL) 70Mbps Max and (UL) 50Mbps Max. HSPA R6: (DL) 21 Mbps Max and (UL) 5.76Mbps Max. UMTS R99: (DL) 384kbps Max and (UL) 384kbps Max
MIMO 2×2: on the 4G downlink at the bands B4 and B66
TRANSMISSION POWER: Class 3 (24dBm + 1 / -3dB) for UMTS / Class 3 (23dBm ± 2dB) for LTE
OPERATION TEMPERATURE: External unit: 14°F ~ 140°F / Power supply and POE: 32°F ~ 104°F
STORAGE TEMPERATURE: -4°F ~ 158°F
ETHERNET PORT: RJ45 connector / IEEE 802.3 – Ethernet 10 / 100Mbps
MAXIMUM LENGTH OF RJ45 CABLE: With original source 24 VDC / 0.75A: 328ft / With 12 VDC / 1.5 A source: 50ft / With 12 VDC / 1.5 A battery: 50ft
FACTORY CONFIGURED IP ADDRESS: 192.168.10.254
MAIN DIRECTIONAL ANTENNA: 700 up to 2700 MHz / Vertical polarization / Gain: 700 to 960 MHz: 6 dBi, 1710 to 1910 MHz: 7.9 dBi, 1920 to 2700 MHz: 10 dBi, 10 dBi (1920 MHz), 10 dBi (2310 MHz) and 8 dBi (2700 MHz)
DIRECTIONAL DIVERSITY ANTENNA: Bands: B4 and B66 (downlink) / Horizontal polarization / Gain: 8 dBi (2110 up to 2200 MHz)
SIM CARD SLOT: Accepts nano Sim Card only
Discover other

Internet solutions
In 2015, Elsys partnered to enter HughesNet's domestic market, and has since worked together to provide satellite internet connection in remote places or rural areas of Brazil.
The Elsys & Vivo partnership brings reinforcement to the mission of connecting people and transforming lives. With extensive operations in Brazil, Vivo is now a partner in the offering of mobile internet, linked to AMPLIMAX, and internet via fiber; both solutions come to market via our distribution network.
The 4G LTE outdoor modem that increases the range up to 5x compared to typical 4G USB modems.
Amplimax is deal to those who need internet but don't have a good quality signal.
Perfect for places without installed networks.